Real Estate Almanac provides industry compendium in print
Never before have so many different elements of the residential real estate brokerage business and organization been indexed, ranked, and cataloged into one comprehensive compendium. In total, the print edition covers more than 2,000 companies, businesses, and leaders across five industry sectors all wrapped in 450 pages.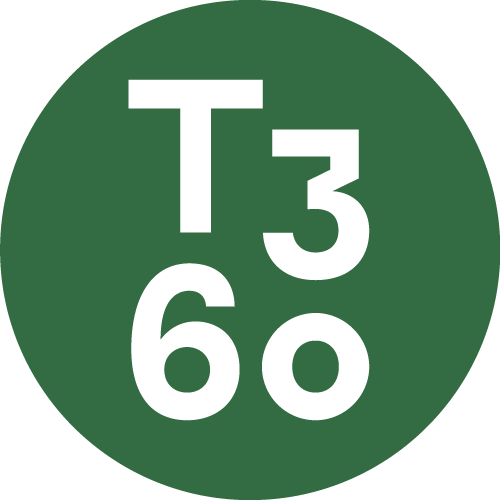 Executives / Leaders (SP200)
The first section of the Real Estate Almanac, Executives/Leaders (SP 200), ranks the most powerful and influential executives in the residential real estate industry. This year, The four most powerful executives after Barton are, in order: Keller Williams Realty CEO Gary Keller, HomeServices of America CEO Ron Peltier, Realogy CEO Ryan Schneider, and Redfin CEO Glenn Kelman.
Barton ascends to the top of the 2020 list based on his full-force return to lead the company he co-founded in 2005 as CEO in 2019. He has brought a bold new vision and direction to Zillow focused on reengineering the real estate transaction around the iBuying business model with the company's new homebuying and selling Homes division, which the company projects can produce $20 billion in annual revenue.
This section includes several lists as seen in the SP200 including:
The top 200 leaders

Top Technology Executives

Top Organized Real Estate Executives

Top Women Executives

The Watchlist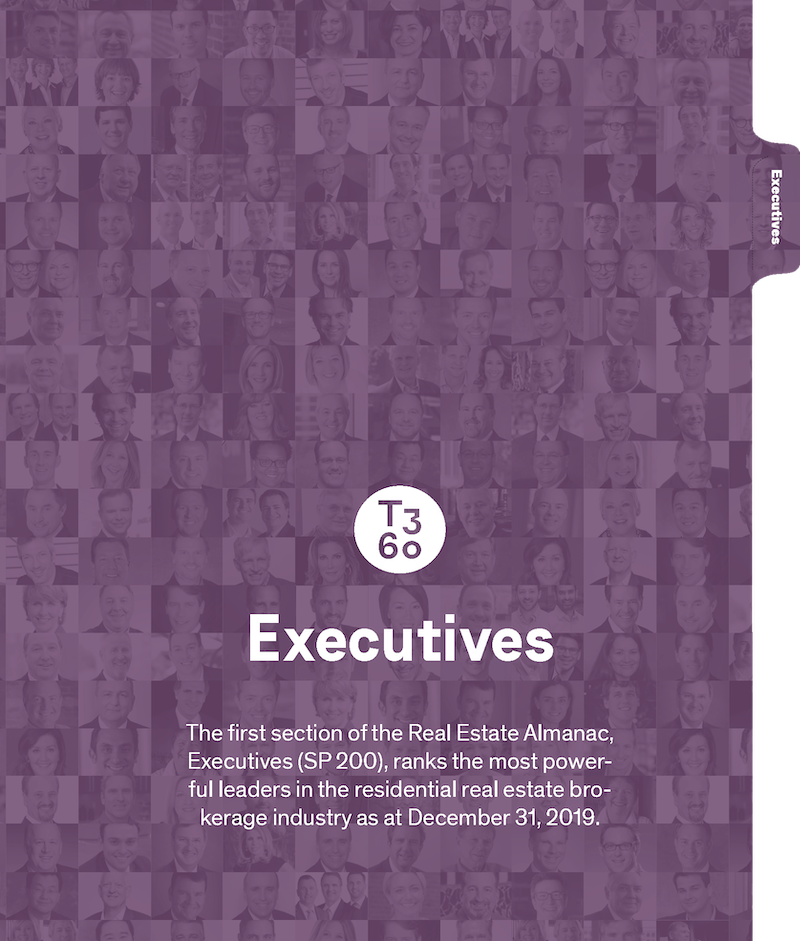 Organized Real Estate (ORE 200)
The second section of the Real Estate Almanac, Organized Real Estate, includes all 565 MLSs, 51 state Realtor associations (Washington, D.C., is tracked separately) and 1,086 local Realtor associations. The rankings show that the nation's 20 largest MLSs (approximately 3.5 percent of all MLSs) serve over 50 percent of the nation's total MLS subscribers; this number will likely go up as consolidation increases across the country and MLSs become larger.
The Realtor association side tells a similar story: an extreme differentiation in size and offering to their memberships. The three largest state associations track with those states' populations with California, Florida and Texas leading the pack and the only associations with membership counts above 100,000 Realtors. Together, these three associations have 513,127 members (brokers and agents), accounting for 36.4 percent of the nation's Realtor membership.
This section lists:
The State Associations

The Top Local Associations

The Top Multiple Listing Services
As transformation happens, the Real Estate Almanac keeps track of the change and enables us to remain current and aware of the shifts.
It allows us to accurately understand who in the industry is succeeding at the highest levels, be brokerages, franchisors, associations of MLS organizations.
The Almanac is an invaluable reference guide.
Technology Providers (Tech 500)
The third section of the Real Estate Almanac, Technology Providers (Tech 500), sorts and compiles products from well-established companies such as MoxiWorks, W+R Studios, Constellation Real Estate Group, Inside Real Estate, Fidelity National Financial, Adwerx, LionDesk, Buyside, ActivePipe, HomeSpotter, Union Street Media and many more.
The report includes over 550 entries with over 270 unique products and vendors. Technology providers are also sorted and provided by the T3 Technology Landscape covering 63 categories in the six landscape parts.
This section lists:
Technology vendors in each of the 63 categories in the technology landscape
Franchise Brand Technologies by Brand.
The fourth section of the Real Estate Almanac, Enterprises, reveals that the nation's 20 largest real estate holding companies, which represent both the company-owned brokerage and franchise divisions of a real estate company, handled 52.79 percent of existing-home sales volume in 2019, up from 51.75 percent in 2018 and 49.42 percent in 2017.
The transaction side market share for the 20 largest companies jumped similarly over those periods to 46.88 percent in 2019. Total market based on total home sales counts and average home sale price as reported by NAR.
This section lists:
Public Companies
Holding Companies by Sales, Sides, Agents
Franchise Brands by Sales, Sides, Agents
Largest Brokerages by Brand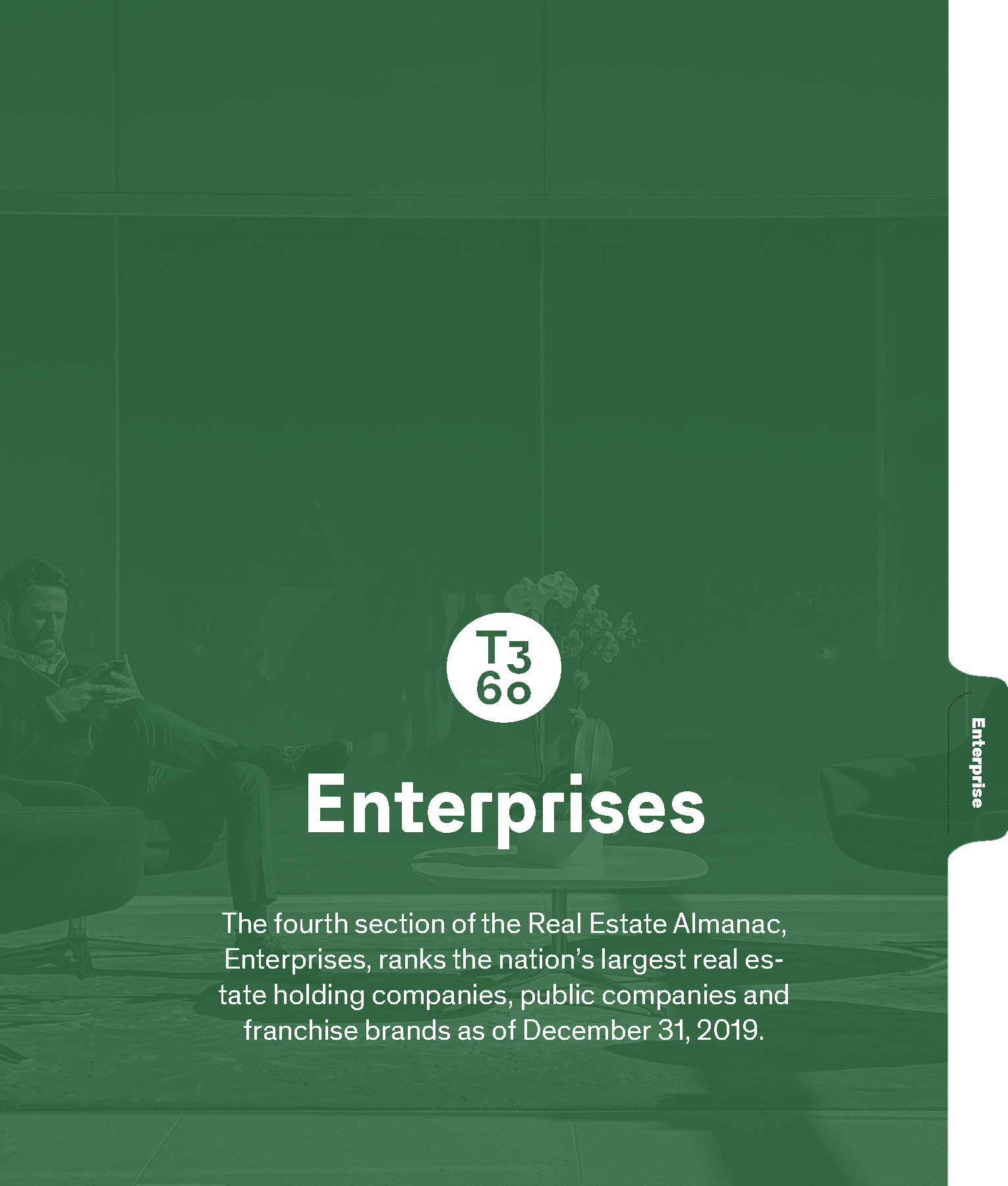 The fifth section of the Real Estate Almanac, Brokerages (Mega 1000), ranks the largest residential real estate brokerages as of December 31, 2019.
This year, the report reveals that production is increasingly concentrating among the nation's 1,000 largest brokerages. In 2019, these companies did 48.9 percent of all existing-home sales volume, up 1.4 percent from 2018 and up 8.9 percent from 2017. Transaction sides of the nation's 1,000 largest brokerages saw a similar jump.
This section includes:
Top 1000 Brokerages by Sales Volume
Top 100 Brokerages by Transaction Sides
Top 100 Brokerages by Agent Count
2019 Acquisition Tracker
Oldest Companies in Real Estate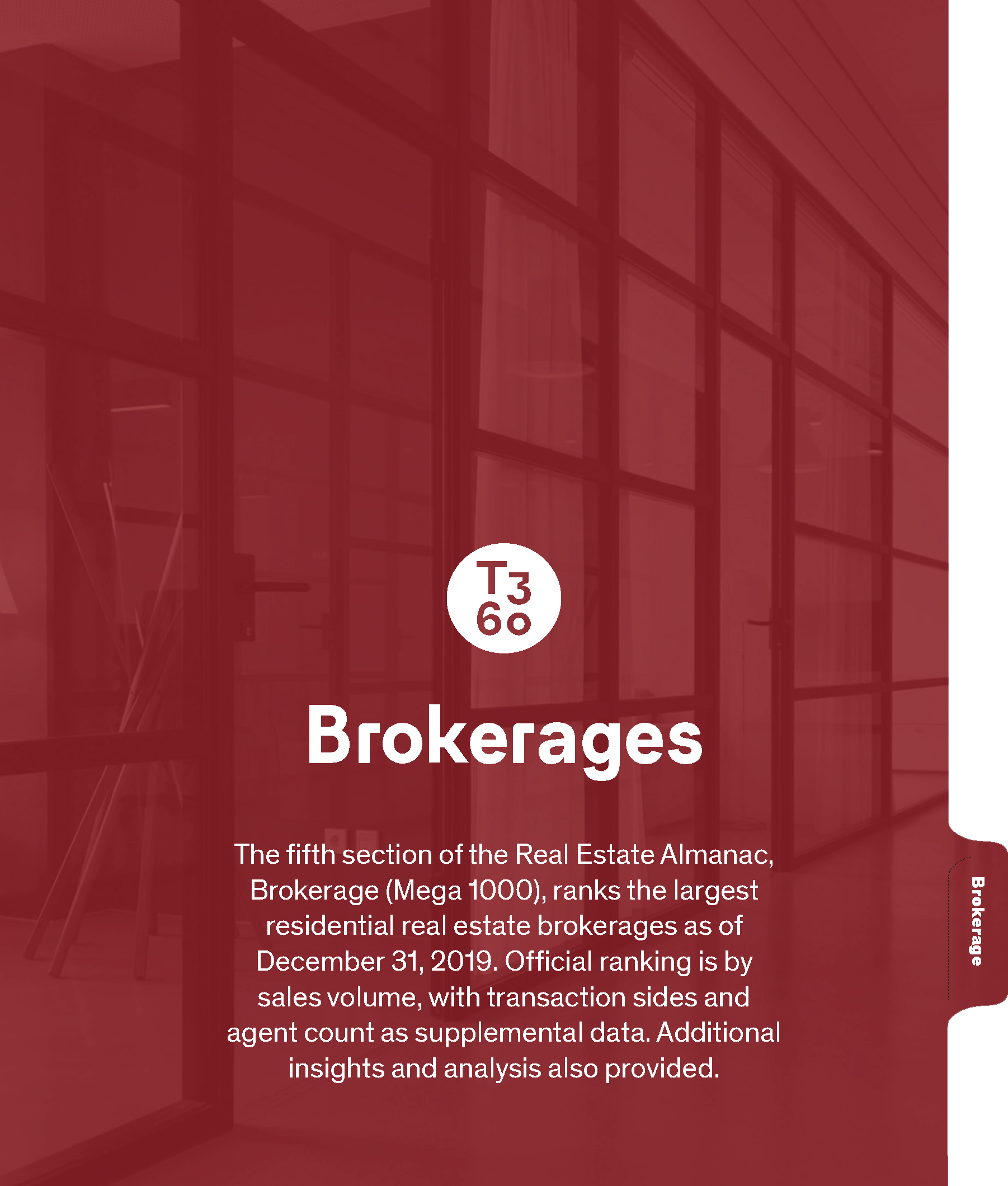 Ideal for Everyone
Priced for 1 Copy
First Year Savings at $250 (50%)
Retail Price: $500.00. Ships Now.
Free Shipping on all orders.

©2020 T3 Sixty. All rights reserved.
The Real Estate Almanac, is a market intelligence report by T3 Sixty